Security professional or just a labourer in a security guard's uniform?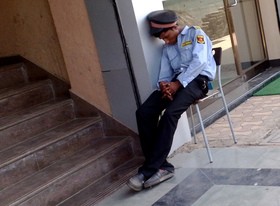 When I look at the security manpower landscape in New Zealand, I often think the words, security and professional should not be in the same sentence. The security guarding industry is driven by the dollar, not quality or professionalism, the importance of winning a security contract at any cost often erodes margin.
We have a labour-hire company providing security guards, digging a hole one day, then working to secure your assets and people. Do these people have relevant experience, security qualifications, and the right attitude to represent your brand or organization?
In New Zealand internationally owned guarding companies dominate the security market, focusing on volume with little consideration for providing high-quality services. Guarding companies often employ unskilled people, essentially manpower or labor hire services. The result of not deploying security professionals can be devastating to the client, company or brand.
Event Security – Mitigate & Manage Risk
There is a heightened awareness of risk for any event manager, a risk assessment was once considered an option, but, it's now an important element when considering the safety, security and well being of the public or invited guests.
Be it Covid-19 or a terrorist threat, the need for professional event security is more important than ever as global threat levels surge and extremists continuing to make their statements with bombings, shootings, and other acts.
Manage your risk, employ a licensed security consultant to manage your risk assessment, including threat and vulnerability. You can also use a security consultant to supervise your security guard provider.
Event security tips to keep in mind…
Assess the security risks prior to the event – Determine the level of risk and any threats that could occur. The nature of risks would depend on the type of event you are managing.
Security checks – It is always a better idea to decide on a few checkpoints outside of the venue and have security professionals control these areas. Ensure you have a guestlist for private events or VIP functions – Your security professionals should greet and confirm the guests arriving at your event.
Hand over the guest list to the hired event security professionals to tally the guests entering the event with the list of guests expected at the event. Have an emergency plan ready to be executed for any situation, fire, earthquake, security breach, or even a medical emergency (who is first aid trained? do you have an AED?).
Unfortunate events can occur at any time. Therefore, when managing an event, it is important to be prepared for these situations. Keep the measures to be taken handy and well-planned.
Importantly, trust the security company you have employed, it is important that you trust your event security team as well as their judgments.
Why is security important at events?
Planning an event involves a number of tasks. The tasks right from deciding the venue, inviting the guests, and employing the right security service. If you are doubting and thinking if there is any importance of event security, think again.
Event security is one of the most crucial factors to be decided by the event manager, why?
Having a security company present implies that unwanted people will not be able to enter your event. Events on a medium or large scale can get out of control in some situations. Therefore, having a security team present will also assist in having better crowd control.
Your guests will feel valued, safe and relaxed. That is, the security professionals will be able to escort your guests, make sure they are safe. This will help the guests in having a better experience at the event.
You will have a rapid response team of trained security professionals ready to manage any emergency if required. Employing event security has significant benefits. In fact, it should be a mandate if you are planning to host an event.