Police Investigation – Lower Hutt Kereru Rescue Donations (Hayden Christopher James).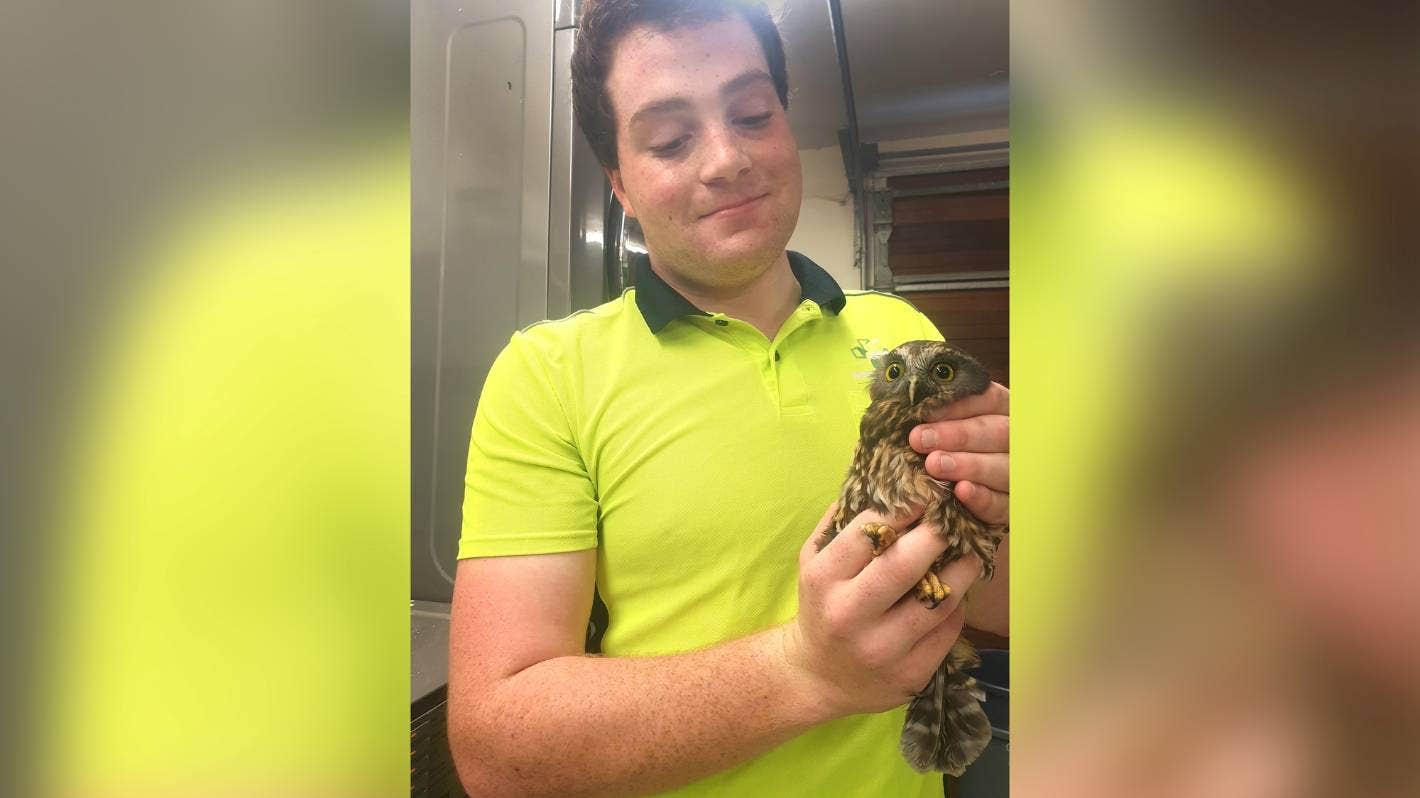 Hayden Christopher James formally of Wainuiomata, Lower Hutt.
Lower Hutt Kereru Rescue Donations.
Stuff Article – The wildlife rescue centre taking donations from 2500km away.
A bird rescue service is at the centre of a police investigation, following claims its founder was accepting donations while living in Australia. Andrea Vance investigates.
For a busy wildlife rescue centre in Queensland, the new volunteer seemed like a dream come true. As bush fires burned across Australia, and threatened creatures succumbed to the global biodiversity crisis, the charity was grateful for extra help.
New to the country, Hayden James was experienced in caring for stricken animals. Although just 24, he said he'd run one of New Zealand's largest native bird rescues centres. To boot, he was a qualified paramedic – and was also volunteering for the local rural volunteer fire service.
READ MORE:

* A broken radiator has stalled a Wellington bird trust

* Out of your tree owl: Ruru falls from tree, rescuers move in

The rehabilitation centre – which Stuff agreed not to name – gladly signed him up. "For a while he was quite good. He'd do lots of rescues," its founder said.
James was drafted on to their trauma team, trained to use captive bolt guns to euthanise kangaroos hit by vehicles.
After a few months, his work began to stand out. "He'd always come up with these really elaborate stories," the founder said. "He went to a rescue and [later] he said to me, someone came out naked and chased him with a machete."
Something was off. "I've been doing this 10 years and nothing bad, nothing physical has ever happened to me. But to Hayden, apparently it was happening again and again."
There were other red flags. His colleagues quickly figured out there were gaps in his medical training. "We had a heap of medical donations – because hospitals donate stuff to us [and] he didn't know what a cannula was."
Then, mid-last year, the hoax phone calls started. "We started getting these call-outs to our emergency hotline for rescues that just weren't there," the founder said. The trauma team wasted time and resources responding to the phantom rescues – one carer drove two hours to collect a koala that didn't exist.
Around the same time, the team started to notice that James frequently happened upon multiple, injured creatures, often when he was out for a drive. "That could happen," the founder agreed. "I'm eagle-eyed, always looking for animals on the side of the road, and I've found one or two. But not the number he has. "
Other behaviour raised suspicions. "A rescue call would come in for an injured bird. He would go and then mysteriously, all of a sudden, that bird would have a broken wing."
On one occasion, a parrot breeder rang in after finding a struggling baby bird. "She'd checked it over, and felt like it was just an orphan."
When James returned to the centre, the bird was found to have two compound fractures and was immediately euthanised.
"This woman was very savvy, she's a bird person. She would have noticed a compound fracture."
Worried, the founder began to pull back from James and limited his access to the charity. "Every time we thought we'd caught him out, the story would turn."
Soon after, the founder and centre began getting threatening messages, including from a caller using a voice-changing app.
"I started to get constant phone calls from different numbers. They were like: 'I'm gonna come, I know where you live'.
"[There was] a random comment about cutting my fences and since then I have kept my horses locked up the back.
"One morning, my dogs are barking, and I got up, and his car was parked in my driveway at 3 o'clock in the morning. He would do things like drive to my work, stupid, petty stuff."
Then, late last year, James was arrested. Wamuran Rural Fire Brigade had also been receiving false emergency calls – 23 hoaxes between January and October 2022. They had responded to all of them, and found no fires. He'd also been working as a driver for a food delivery app – but customers hadn't been receiving their orders.
Last week, James was sentenced at the Caboolture Magistrates Court for improper use of the emergency call service, and for other charges of fraud, stealing and personation in general. He was given probation orders and received a fine for unlicensed driving. James may now face deportation under Australia's hard-line immigration regime.
And when he returns to New Zealand, he is the subject of a 'wanted to interview' notice – meaning police want to question him.
Because although his claim to run New Zealand's largest bird rescue operation was off the mark, he did found Lower Hutt Kererū Rescue in 2018, running it from his Wainuiomata home. He featured in a series of news articles about his work saving stricken native birds.
In January 2021, James was interviewed by Stuff, saying he was running low on money, and a faulty radiator in his 2006 Mitsubishi prevented him responding to call-outs. Two days after the article was published, James, who also worked in security, left for Australia.
He'd been sacked from his job. His employer subsequently made a series of complaints to police about threatening behaviour and the theft of an access card. Stuff agreed not to name him because of the threats. James had posted on the trust's now deleted Facebook page. He was taking a break "for a couple of months" and volunteers would continue to rescue birds, he wrote.
But he stayed in Australia, starting a new business catching snakes. And throughout 2021 and 2022, while he was living and working just outside Brisbane, the Lower Hutt Kererū Rescue continued to fundraise using social media and crowdfunding platforms like Givealittle.
Posts claimed the "not-for-profit" organisation had rescued 500 birds, transporting them to bird rehabilitation centres. There were calls to help pay for fuel and feed, personal protective equipment and medication.
Often the messages would list the number and types of birds receiving care. In October 2021, a fundraising appeal was launched to purchase a net gun, priced at $1327 – reaching its goal. Money was also raised to fix a vehicle's fuel pump ($430).
A few months later, $5500 was acquired with donors believing it was to buy a Suzuki Grand Vitara. James' personal Facebook account would share the posts to dozens of community pages. The bank account numbers provided would vary and supporters, and other native bird rescue organisations started to become suspicious.
An online appeal asked for just over $800 to pay for a portable incubator – but a conservationist queried the price, noting the cheapest available was $1500. One woman offered baby bird formula and other feeds, but never heard back which she found "strange". When challenged online about his whereabouts, James would explain the rescues were being carried out by volunteers.
Unsatisfied, a number of conservationists raised concerns with the Department of Conservation, in late 2021. In correspondence seen by Stuff, one prominent bird rehabilitation specialist noted James had no formal training in bird rescue nor avian first aid, and questioned whether he possessed DOC permits. (Anyone wanting to hold protected wildlife must apply to DOC for authorisation).
The email, to a Wellington-based DOC compliance manager, also contained warnings about the fundraising drive for the Vitara. She told the conservation organisations to contact police – which they did.
But the appeals continued into January 2022, when one woman donated $500 for food and fuel. Frustrated by what they saw as inaction by police and DOC, one locally based conservation organisation made a social media post warning donors about Lower Hutt Kererū Rescue. It was later deleted at the request of police.
Before it disappeared, a Lower Hutt woman who had contributed small amounts to the trust, saw it. "I was shocked and really disappointed," she told Stuff. "The [Kererū Rescue] had a well put-together Facebook page, and it was all about saving the animals. There were no red flags. I gave small amounts, say $5 here and there." She also contributed to a Givealittle page, which ultimately raised more than $2000 for the trust, and also offered to donate goods for a raffle.
"They gave me a physical address to drop it off. I popped it in the letterbox, there was no-one there. I didn't see anyone." She said she has yet to be contacted by police, despite sharing her experiences on the now-deleted warning. In a statement, a spokeswoman said: "In general, Police are unable to respond to requests which seek to establish if certain individuals or organisations are, or have been under Police investigation for privacy reasons."
Australia's Department of Justice and Attorney-General referred a query to Queensland police, who directed questions to New Zealand's police force. Angus Hulme-Moir, DOC's operations manager for Kāpiti-Wellington told Stuff in a written statement: "DOC withdrew Hayden James' wildlife handling permit earlier this year, effective from 30 June 2022, as he was refusing to comply with the conditions of the permit. If he is still operating and handling birds, this is without permission and in violation of the Wildlife Act."
At least $3189 was raised for Lower Hutt Kererū Rescue through online platform Givealittle. In a statement, a spokeswoman said one page had closed in February 2021, but didn't clarify if this was because of a complaint. James claimed police had "quashed" the allegations he was facing both here and in Australia, even falsely claiming he'd been interviewed by a police officer a day earlier.
"Everything was paid for that the donations were donated for," he said. "We had volunteers that were part of the Kererū Rescue that were still undertaking rescues." Despite agreeing to provide their names and contact details, none were forthcoming. James also cited another Wellington rehabilitation centre who would confirm the work was being done. Calls and messages were not returned.
James said the vehicle was bought, and then sold, with proceeds donated to a local plant nursery and Zealandia. "We are unable to confirm completely whether this occurred," a spokeswoman for Wellington's ecosanctuary said. "We have not found any donations in our system tagged to Lower Hutt Kererū Rescue, though the donation could have come through via bank transfer from an unidentified bank account."
Just a few days after Stuff's call, the Queensland wildlife centre was the subject of a hack, which deleted the records of 200 kangaroo and wallaby rescues, saved over the last three years.
If you have any concerns regarding the activities of Hayden James or have donated to his organisation, please contact:
Sergeant Patrick (Pat) Tangipo
NZ Police – Wainuiomata Police Station
P  +64 212 3695
M  +64 21 190 9361
---